In May 2012, Georgia passed a "20-week" abortion ban, banning providers from performing abortions starting at 22 weeks from a women's last menstrual period (LMP). Although Georgia was the tenth state to pass such a ban, it was the first state to do so where a considerable number of abortions were actually being provided beyond this gestation. This ban was partially blocked by a court order on a preliminary basis, but part of the law went into effect January 1, 2013. Under partial implementation, the law effectively banned abortions once 24 weeks passed since a woman's last menstrual period. The court removed the block and the full ban went into effect in 2016, banning abortion care beyond 22 weeks LMP.
Key Findings
Abortions after 20 weeks LMP fell by 40% from 2012 to 2013. There were reductions in both the abortions affected by the law (those after 24 weeks) and in abortions not affected by the law (those between 20 and 22 weeks).
Abortions after 24 weeks dropped to nothing immediately.
Abortions prior to 24 weeks dropped initially, but then returned to their previous year numbers. We speculate that providers may have stopped referring women for abortions once they reached 20 weeks, out of a misunderstanding of the law.
We did not observe an increase in abortions prior to 24 weeks. This means that the law did not lead women to obtain abortions earlier. It led them to either travel elsewhere or to continue their pregnancy.
Prior to part of the ban in 2013, women traveled from throughout the South, Midwest, and Northeast to receive abortion care in Georgia after 24 weeks. Because of the law, these services were no longer available south of Maryland or east of Texas.
For abortions between 22 and 24 weeks, which were provided during our study time period, but are no longer provided due to the entire ban going into effect in 2016, half of the women traveled from out of state to obtain this care.
When a type of abortion care, such as later abortion care, is already scarce in a geographic region, banning it in one state in that region has an impact on women's health and access well beyond that state.
- back to the Evaluation of Abortion Restrictions Project
Study Design
Phase 1: ITOP Data Collection
Objectives: Our first study sought to describe the groups of women affected by the Georgia state law that went into effect in January 2013 that led Georgia providers to stop providing abortion care at 24 weeks, as well as the groups of women who would be affected when or if the full "20-week" ban went into effect.
Data Collection: Data were collected from facilities in Georgia that provided later abortions in 2012 and 2013. Data from women who had an abortion at or beyond 20 weeks gestation in 2012 and 2013 were abstracted from routinely collected data.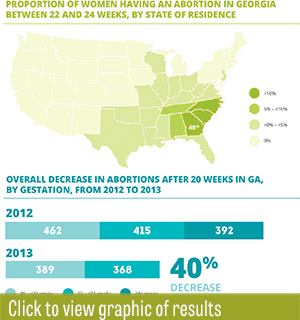 Phase 2: Qualitative Interviews
Objectives: To understand the experiences of women unable to obtain abortions in Georgia since the full 20-week gestational ban went into effect in 2016.
Data Collection: Between July 2016 and July 2017, we sought to recruit women unable to obtain abortion care in Georgia due to the 20-week ban, and conducted in-depth interviews to learn about their experiences. We also asked participating facilities to track the numbers of women they had to turn away due to the law.