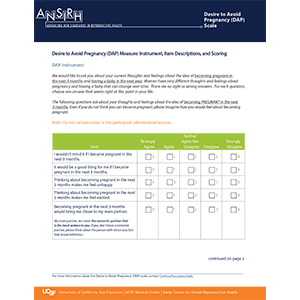 Our Desire to Avoid Pregnancy (DAP) scale is a psychometrically validated measure of a woman's preferences about a future pregnancy and childbearing. The DAP Scale is unique in that it prospectively measures a range of preferences and feelings women have about a potential pregnancy and childbearing, without assuming that these preferences are fully formed or conscious. Taking into account the complexity of pregnancy and childbearing in society, the DAP scale captures three domains relevant to women's pregnancy preferences, including their cognitive desires, affective feelings and attitudes, and anticipated practical consequences.
To create the scale, we developed 60 draft items from existing research, assessed comprehension through 25 cognitive interviews, and administered items in surveys with 594 non-pregnant women in seven primary and reproductive health care facilities in Arizona, New Jersey, New Mexico, South Carolina, and Texas in 2016-2017.
Researchers do not need a license or permission to use the DAP scale. It can be download for free from our DAP study page and is available in both English and Spanish.
For a detailed explanation of the study, read "Psychometric Evaluation of an Instrument to Measure Prospective Pregnancy Preferences," published in the journal Medical Care.