Louisiana's Admitting Privileges Law
- back to the Evaluation of Abortion Restrictions Project
Background
Currently, there are three abortion facilities in Louisiana that serve the almost 1 million Louisiana women of reproductive age. In 2014, when there were five abortion facilities, Louisiana passed a Hospital Admitting Privileges law that would require abortion providers to have admitting privileges at a local hospital. The Admitting Privileges law was reported to have the potential to close between three and five of the five abortion facilities in the state; it has not gone into effect, due to a court case challenging it.
We sought to understand how the Admitting Privileges law would affect Louisiana women.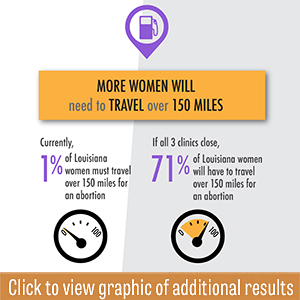 Objective
To evaluate the effects of Louisiana's Admitting Privilege law that requires abortion providers to have admitting privileges at local hospitals and that could have caused the closure of three or five of the five abortion facilities in the state.
Study design
Data were collected from three of the five abortion facilities. These data, along with census data, were analyzed to estimate how far women have to travel for abortions without the Admitting Privileges law in effect and how that would change if some or all facilities close, as well as identify characteristics of the women most affected by the law. Data from the year prior to when the law was initially scheduled to take effect have been analyzed and a paper based on these analyses was published.
Key findings
For the year prior to when the admitting privileges law was scheduled to go into effect, we examined data from 5641 women. The data showed that the Louisiana women in the study had traveled, on average, 58 miles each way to have an abortion. If all of Louisiana's facilities close, the average distance would more than triple to 178 miles each way, about the distance from New York to Boston or New Orleans to Jackson. The study may actually underestimate the distance women would have to travel, since three of the closest states to Louisiana­—Texas, Mississippi and Alabama—also have passed admitting privilege laws and other restrictions that could close more abortion facilities. We also found that if the five Louisiana facilities closed, the percent of women who would have to travel over 150 miles each way for an abortion would increase from 1% to 71%.
Related issue brief
Related infographics