Abortion Onscreen in 2016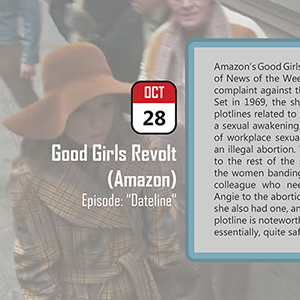 In 2016, we identified 13 plotlines on American television where a character considers getting an abortion, and 10 plotlines where they actually do obtain one. These numbers follow the patterns we've observed over the past three years: a fairly consistent number of pregnancy decision-making plotlines and abortion results, with a slight increase in the rate of choosing abortion over past decades (77% this year, compared to about 50% in our overall sample). We also saw fewer shows mentioning or discussing abortion when it wasn't directly related to a pregnant character's decision – this year, when abortion was mentioned in a plotline at all, it was probably because a character was getting one.
View the latest infographic from our Abortion Onscreen project.