Abortion Onscreen
At ANSIRH, we are interested in not only abortion as a healthcare and policy issue, but also in how it operates in cultural conversations and narratives. American film and television—the screen—is one place where cultural stories about abortion play out. Abortion Onscreen is a research program aimed at investigating these stories and understanding their effects on broader social understandings of abortion.
Check out our Abortion Onscreen Database to search through the history of abortion plotlines in film and on television.
Each year, we analyze and report on television portrayals of abortion. Our most recent reports include:
To date, our Onscreen program has: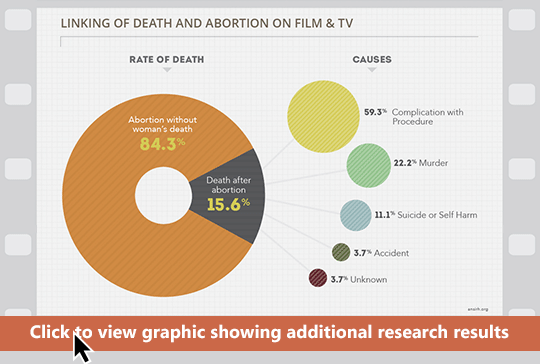 completed a census of all fictional American television shows and films, from early silent films in 1916 to the present, and identified the dramatic overrepresentation of abortion mortality in onscreen depictions (view our abortion on film and TV infographic).
investigated the impact of viewing the film After Tiller, a documentary about later abortion, and found that viewers expressed markedly high support for the legality of third-trimester procedures when compared to the general public.
analyzed characters seeking and obtaining abortion on television, finding evidence that these characters are, in aggregate, younger, whiter, of high socioeconomic status, and less likely to be parenting than their real life counterparts (view our infographic on abortion patients on TV).
analyzed the onscreen portrayals of abortion providers (view our abortion provision on TV infographic) and examined how abortion access and barriers to abortion care are depicted on television (view our abortion barriers infographic).
examined the portrayal of medical complications associated with abortion, finding that television dramatically exaggerates the health risk associated with abortion procedures.
interviewed journalists to unearth the process of writing original news articles about abortion, finding that abortion may be a uniquely challenging topic to report on due to stigma and political polarization.
analyzed over fifty years of abortion portrayals on tv and film to uncover how different genres have addressed abortion, including drama, soap opera, horror, science fiction, and comedy, and the relationships these portrayals have to the cultural conversation about abortion.
studied how abortion procedures are portrayed over a decade of American television, finding that TV often reinforces myths and misinformation about surgical abortion and medication abortion.
updated our initial demographic data on characters who obtain abortion on television, including their race, socioeconomic status, depiction of medical risk, barriers to access, and genre. This analysis compares our samples from 2005 to 2014 to more recent depictions from 2015 to 2019.
conducted an in-depth, qualitative analysis of how race functions in television portrayals of abortion over a decade of depictions.
Additionally, we are always tracking the most recent onscreen depictions of abortion, and providing current analysis and commentary.
Our work in the Abortion Onscreen program is ongoing. With continued support, we are planning future research to include analysis of the health and safety outcomes for onscreen abortion procedures; examination of how abortion functions as a storytelling point (or trope) within different programs; analysis of scripted movies and television shows with anti-abortion messaging as tactics of the antiabortion movement; and deeper consideration of the interactive relationship between media portrayals, historical moments, and the political and social climate around abortion in the United States.
This research has been featured in the New York Times, The Washington Post, NPR, KQED, BBC Culture, Slate, Jezebel, Bitch Magazine, Refinery29, and many other media outlets.