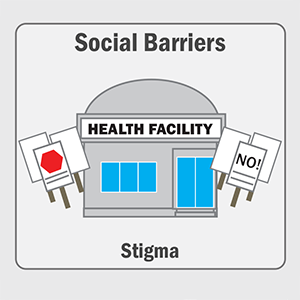 The Abortion Onscreen project identified 89 plotlines from 2005 to 2015, including in popular shows such as Shameless, Orange is the New Black and Friday Night Lights, in which characters considered or had an abortion. Our publication, titled, "Depicting abortion access on American television, 2005–2015," available in Feminism & Psychology, found that these plotlines often under-represent the various difficulties, including legal barriers, financial constraints and social pressures, which real women face in pursuing abortions.
Some of the challenges women confront on television are similar to those they face in real life, including legal restrictions and social stigma. The primary barrier portrayed on screen is illegality, which is significantly over-represented in these plotlines relative to other, much more common, contemporary obstacles to access. However, illegality never actually prevents a character from accessing care when she is motivated to do so.
Legal restrictions on abortion access are also portrayed as easily surmountable. These regulations include a parental consent requirement (Jack and Bobby), a parental notification requirement (The Good Wife), a mandated script read by the physician before the procedure, and a mandated waiting period (both on Friday Night Lights). In each of these cases, the restrictions are portrayed as minor inconveniences that do not deter women from seeking abortion care.
In addition, characters on television are typically more socioeconomically privileged than women who seek abortion in real life, allowing them to frequently overcome almost all barriers. Therefore, the issue of financial cost is particularly overlooked in these plotlines. The plurality of U.S. women getting abortions (42 percent) live below the federal poverty level and pay out-of-pocket for abortion care, but cost is only mentioned as a challenge in seven of the 89 plotlines studied, and only two plotlines detail efforts to overcome this challenge. Further, in both of these plotlines (Shameless and Call the Midwife), the characters find a simple way to successfully overcome the cost issue, falsely suggesting that financial struggles are easily surmountable and do not play a major role in whether or not a woman can get an abortion.
In 55 percent of the depicted plotlines, the character seeking an abortion obtained abortion care. Only four percent of characters faced insurmountable barriers when trying to access an abortion. For the remaining 40 percent of plotlines, characters changed their mind and opted not to pursue an abortion; in some cases, this decision was related to the obstacles they faced (e.g., a character seeking an illegal abortion became fearful for her safety and decided not to obtain one – even though she otherwise had access to the procedure).
View our infographic, "Barriers to Abortion on TV," for an overview of the findings from this study.