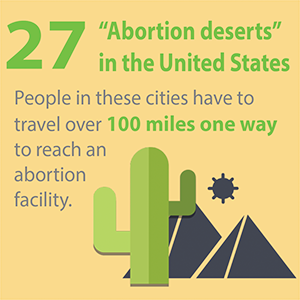 We conducted a first-of-its-kind systematic online search for abortion facilities in U.S. cities that have a population of 100,000 people or more. The team recorded facility locations, types of abortion services available, and facility gestational limits then summarized the frequencies by region and state.
The results showed that access to abortion facilities and certain types of services greatly vary throughout the United States. "Abortion deserts", or cities where people have to travel 100 miles or more to reach an abortion facility, exist in every region in the country except the Northeast. Research shows that the Midwest region (92 facilities in 10 states) has the least abortion facilities per capita, while the Northeast (233 facilities in 9 states) has the most. Six states (Kentucky, Mississippi, Missouri, North Dakota, South Dakota, and West Virginia) have only one abortion facility.
The study also finds that the availability of specific abortion services varies widely by region. While most abortion facilities provide both medication and aspiration or surgical abortion, nearly half of facilities in the Northeast and West provide only medication abortion. Additionally, only about a quarter (26.5 percent) of abortion facilities identified in this study provide abortion care at 20 weeks gestation or later.
While this online search provided information about abortion facilities and their services, the locations of these providers are not distributed equitably geographically across the United States. Having to travel long distances for abortion care can disproportionately impact low-income women and potentially push women to seek abortion at later gestations when care is even less available. Travel burdens may exist in addition to other restrictions on abortion in the state, including waiting periods and gestational limits, which can exacerbate inequities in access to abortion care.
The publication, "Identifying National Availability of Abortion Care and Distance From Major US Cities: Systematic Online Search," is available in the Journal of Medical Internet Research.
Download our infographic.