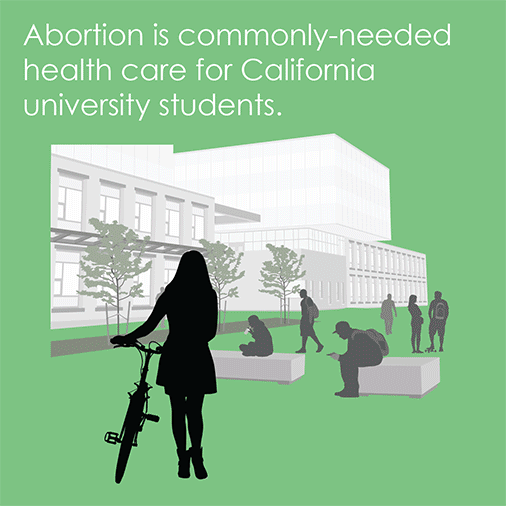 The California State Legislature is considering Senate Bill 320, which would mandate the availability of medication abortion services at student health centers on all University of California (UC) and California State University (CSU) campuses. If SB 320 is voted into law, California will be the first state to require state-funded universities to offer the service. In advance of the Legislature's vote, we conducted two separate studies to:
Estimate the demand for medication abortion among UC and CSU students, and understand the barriers students currently face seeking abortion off-campus; and
Determine whether student health centers have the capacity to provide medication abortion care on campus.
The first study found that an estimated 322 to 519 students seek medication abortion each month in California. Currently the majority of students have to travel at least 30 minutes each way using public transportation to reach the nearest facility offering abortion care. Also, students have to wait one week, on average, for the next available medication abortion appointment and most nearby facilities are not open on weekends.
The second study included a survey with providers and staff employed by UC and CSU student health centers. We found that all UC and CSU health centers provide basic primary care, including reproductive and sexual health services, but not abortion. We also concluded that, if SB 320 becomes law, all UC and CSU student health centers could be equipped to provide medication abortion services with additional support for training, access to ultrasound, 24-hour hotlines, and referral systems, as needed.  
Read more about our assessment of demand for, and barriers to, abortion care among California public university students in "Access to medication abortion among California's public university students" on the Journal of Adolescent Health website, or read our brief, "Assessing barriers to medication abortion among California's public university students."
To learn more about our evaluation of California student health centers' capacity to provide medication abortion on campus, read "Evaluating the capacity of California's publicly-funded universities to provide medication abortion," available now on the Contraception website, or read our brief, "Evaluating University of California (UC) and California State University (CSU) capacity to provide medication abortion."