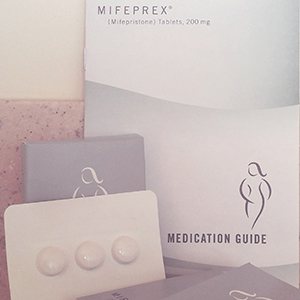 Despite the growing use of medications to induce termination of early pregnancy, pharmacist involvement in abortion care is currently limited in the U.S. The Food and Drug Administration's Risk Evaluation and Mitigation Strategy (REMS) for Mifeprex® (mifepristone 200 mg) prohibits the dispensing of the drug on prescription at pharmacies. But, given its safety record, this dispensing restriction is not evidence-based and constrains access to medication abortion. In our Journal of American Pharmacists Association (JAPhA) commentary, we partnered with pharmacist Dr. Sally Rafie at UCSD and medical resident Dr. Megan Orlando of UCSF to review the pharmacology of medication abortion with mifepristone and misoprostol, including aspects of service delivery and data on safety, efficacy and acceptability, and to discuss the potential for pharmacy dispensing of mifepristone to improve access to care.
When dispensing medications, pharmacists review the prescription to ensure safety and effectiveness and provide pertinent patient counseling on proper use and adverse effects. The gold standard medication abortion requires two drugs, mifepristone and misoprostol. Medication abortion up to 10 weeks gestation of pregnancy is a safe, effective, and preferred method of pregnancy termination by many women, but in the U.S. mifepristone may only be dispensed in clinics, medical offices, and hospitals, while misoprostol can be dispensed at pharmacies. In at least two other countries, Australia and Canada, pharmacists are already dispensing medication abortion to patients with prescriptions.
A shift in policy to allow for pharmacy dispensing in the U.S. would increase the number of clinicians able to provide medication abortion by enabling them to avoid the up-front costs and challenges of stocking and dispensing in their offices or clinics. It would also mean women could bypass certain geographical, financial, or insurance obstacles to clinic-based care and receive abortion services earlier in pregnancy. Ultimately, this model could reduce disparities in access to medication abortion by facilitating direct-to-patient telemedicine services for women in medically underserved areas through the use of community or mail-order pharmacies. Research on pharmacy dispensing will be vital to encourage the FDA to remove unnecessary regulations on mifepristone that are not evidence-based and ensure that pharmacist dispensing is effectively implemented once the REMS is removed.
Read the full commentary, titled "Medication Abortion: Potential for Improved Patient Access through Pharmacies," on the JAPhA website.