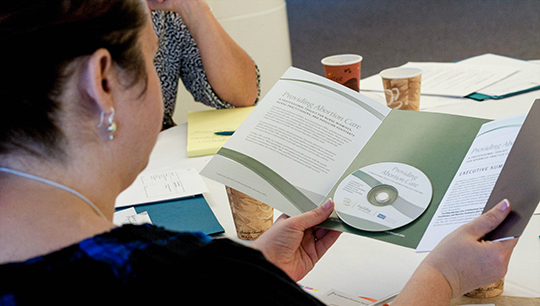 Providing Abortion Care: A Professional Toolkit for Nurse-Midwives, Nurse Practitioners, and Physician Assistants is the result of collaboration between the Provide, ANSIRH, and the National Abortion Federation. The Toolkit is a professional guide for certified nurse-midwives, nurse practitioners and physician assistants in the United States who are either currently providing or would like to offer abortion care within their practices. It also offers background information, resources and guidelines for professional advancement regardless of a particular area of practice. From the introduction: 
"The APC Toolkit helps clinicians compile crucial evidence and documentation to support the integration of early abortion care as an essential part of women's health care services. It guides APCs in the development of a professional portfolio that documents their basic and their abortion specialty education, knowledge, and training and the clinical and professional standards they use in providing safe care. It includes essential information and statistics about abortion care and access, professional standards and competencies, and the roles of state and national professional organizations and state licensing boards. Case studies demonstrating the establishment of abortion care as within the APC scope of practice provide strategies for success."
Contents
Section I. Abortion In Context

Section II. Advanced Practice Clinicians as Abortion Providers
Section III. APC Practice Regulation: Roles of Legislatures, Licensing Boards, and Professional Organizations
Section IV. Advancing Abortion into APC Scope of Practice: Evidence and Methods
Section V. Becoming Clinically Competent and Documenting Competency in Abortion Care
Center photo ©2009 Jana Carrey Photography
Cite this study
Get citation
Taylor D, Safriet B, Dempsey G, Kruse B, Jackson C. Providing abortion care: A professional toolkit for nurse-midwives, nurse practitioners and physician assistants. University of California San Francisco. 2009.