At ANSIRH, we are interested in not only abortion as a healthcare and policy issue, but also in how it operates in cultural conversations and narratives. American film and television—the screen—is one place where cultural stories about abortion play out. Abortion Onscreen is a research program aimed at investigating these stories and understanding their effects on broader social understandings of abortion.
Check out our Abortion Onscreen Database to search through the history of abortion plotlines in film and on television.
Each year, we analyze and report on television portrayals of abortion. Our most recent reports include:
To date, our Onscreen program has: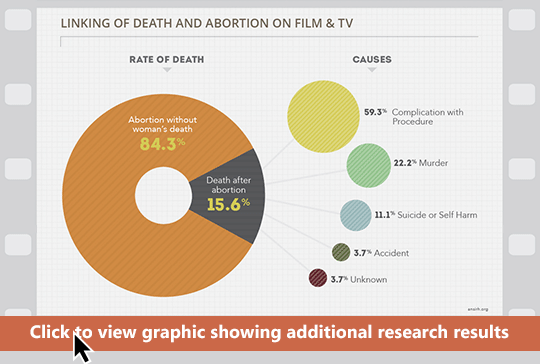 Additionally, we are always tracking the most recent onscreen depictions of abortion, and providing current analysis and commentary.
Our work in the Abortion Onscreen program is ongoing. With continued support, we are planning future research to include analysis of the health and safety outcomes for onscreen abortion procedures; examination of how abortion functions as a storytelling point (or trope) within different programs; analysis of scripted movies and television shows with anti-abortion messaging as tactics of the antiabortion movement; and deeper consideration of the interactive relationship between media portrayals, historical moments, and the political and social climate around abortion in the United States.
This research has been featured in the New York Times, The Washington Post, NPR, KQED, BBC Culture, Slate, Jezebel, Bitch Magazine, Refinery29, and many other media outlets.