ANSIRH Director Dan Grossman explains the sharp decline of abortions in Texas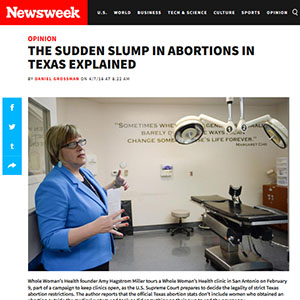 HB2, a law in Texas that contains multiple abortion restrictions, went into effect in 2013. Over the next year, the number of abortions in the state dropped by 14% — much greater than the decline seen nationally.
Research from the Texas Policy Evaluation Project found that likely causes of the steep decline in abortions in Texas include a reduction in the number of providers, many of whom could not obtain admitting privileges at a local hospital, a requirement under HB2. There are also fewer clinics in the state, which has forced women to travel farther to obtain care, increased wait times, and perhaps increased attempts to self-induce abortion.
Read the full Newsweek op-ed to learn more.