ANSIRH Founder: Felicia Hance Stewart, 1943-2006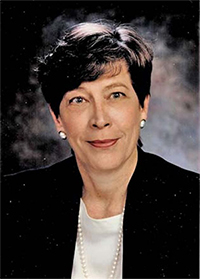 Felicia Stewart was a visionary in the field of reproductive health. Through her work as a clinician, government official, educator and researcher, she touched the lives of countless women and their families. Having come of age as a young physician in the era before Roe v Wade, she was a lifelong advocate of safe and legal abortion. Shortly after her graduation from Harvard Medical School, she worked as the first medical director of the Center for Reproductive and Sexual Health, one of the earliest freestanding abortion clinics established in New York City, after the state legalized abortion in 1970. Dr. Stewart was equally passionate about promoting options for preventing unwanted pregnancies; one of her signal achievements as Deputy Assistant Secretary of Population Affairs during the administration of President Bill Clinton was furthering the approval of emergency contraception as a medication that would eventually become widely available to American women.
Starting around 2000, Felicia Stewart became increasingly concerned about the politicization of reproductive health issues in American society, and the threats to scientific integrity that she saw contained in intensifying attacks on abortion, contraception and sex education. One of her last campaigns, before cancer would take her life in 2006, was to build public awareness about the distortion of evidence in such attacks, and to ally with other groups, such as the Union of Concerned Scientists, who had similar concerns about the phenomenon of "junk science."
For those of us at ANSIRH fortunate enough to have worked with her, we remember with great affection Felicia's brilliance, wit and generosity to younger colleagues.  For all of us, whether we knew her personally or not, our work is informed daily by her legacy of scientific rigor and commitment to social justice.