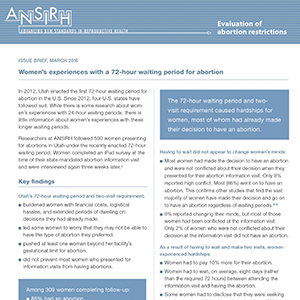 ANSIRH's study published in Perspectives on Sexual and Reproductive Health titled, "Utah's 72-Hour Waiting Period for Abortion: Experiences Among a Clinic-Based Sample of Women" found that a mandatory 72-hour waiting period, imposed between the time of the information visit and the date of the abortion, did little to dissuade women from a decision they had already made and were ready to implement. Instead, women were faced with increased financial burden, as well as increased anxiety and additional logistical challenges involved in arranging two visits to the clinic.
View the publication on the Perspectives on Sexual and Reproductive Health website.
We've also created an Issue Brief highlighting the study's findings.
For more information on this study, please contact Sarah Roberts.