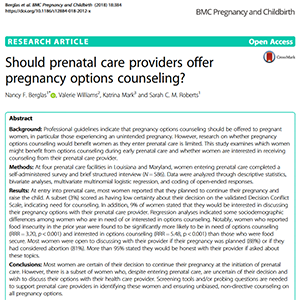 Pregnancy options counseling is often offered to patients who present for abortion care, yet we do not know if women seeking prenatal care might benefit from similar counseling. This study recruited women from prenatal clinics in two states to understand whether women are interested in receiving this counseling from their prenatal care providers.
We found that most women reported certainty in their decision to continue their pregnancy, yet a subset (about one in 10) expressed interest in discussing their pregnancy options with their prenatal care provider. Women who reported socioeconomic hardships and who lived in a state with abortion restrictions were especially interested in discussing their pregnancy options.
Clinicians caring for pregnant patients in any context should be aware that most women are certain about their pregnancy decision before reaching a clinic or office. Some patients, however, may want to talk further about their options. Clinicians should be prepared to offer unbiased, non-directive options counseling and social services referrals to their patients in need.  Policies should not restrict health care providers' ability to provide patient-centered options counseling.
Read more about the study, "Should prenatal care providers offer pregnancy options counseling?" at the BMC Pregnancy and Childbirth website.