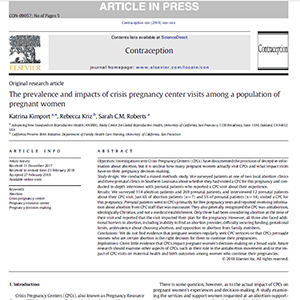 Research has documented that antiabortion, evangelical Christian-run crisis pregnancy centers (CPCs) present inaccurate information about abortion to pregnant women, and abortion rights advocates have reported anecdotal accounts of CPCs deceiving women. A new ANSIRH study set out to empirically measure the frequency with which pregnant women seek CPC services and, when they do go to a CPC, the impacts of those visits on their pregnancy decision-making.
We surveyed pregnant women in both prenatal and abortion care in Southern Louisiana—an area with seven local CPCs and just two local abortion clinics. Just 6% of abortion patients (7 of 114 patients) and 5% of prenatal patients (14 of 269 patients) had visited a CPC for this pregnancy, suggesting that pregnant women do not regularly seek CPC services.
To understand whether the CPC visit was a factor in women's decision to continue their pregnancies, we further interviewed the prenatal patients who reported visiting a CPC. Just three of these 14 women had been considering abortion at the time of the CPC visit. While all three reported that the CPC visit impacted their pregnancy decision-making, all three also faced additional barriers to abortion, including inability to find an abortion provider, difficulty securing funding, gestational limits, ambivalence about choosing abortion, and opposition to abortion from family members, suggesting that any impact of the CPC visit on women's pregnancy decision-making does not occur independent of other factors in women's lives.
Read more about the study, titled "The prevalence and impacts of crisis pregnancy center visits among a population of pregnant women," in the journal Contraception.