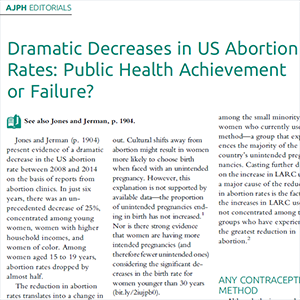 A study by the Guttmacher Institute found that the abortion rate dropped by 25 percent between 2008 and 2014. A new commentary by Dr. Diana Greene Foster in the American Journal of Public Health (AJPH) discusses possible reasons for the decrease and questions the public health implications of these findings.
If the steep decline in the abortion rate is a result of better methods of contraception and improved access to contraception, the drop in abortions can be seen as a public health success. However, if the reduction was caused by the hundreds of state-level abortion restrictions enacted over the last several years that prevent women from accessing medical care, and/or a result of an increase in infertility, the decrease in the number of abortions reflects a public health failure.
Increases in long-acting reversible contraception (LARC) likely have had a very small impact on the abortion rate from 2008 – 2014. Increased use of condoms and pills may have contributed modestly to the drop in unwanted pregnancies. Another explanation is that women are increasingly ending their own pregnancies outside of the medical system and therefore not being counted in abortion statistics.
To read Dr. Foster's full commentary, visit the AJPH website.