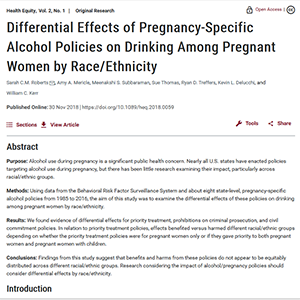 Alcohol use during pregnancy is a relevant public health concern, and nearly all states have policies that attempt to target pregnant women's alcohol use. These policies are often categorized as supportive or punitive. Supportive policies facilitate pregnant women's access to treatment and information, while punitive policies use coercion and punishment in an attempt to change pregnant women's behavior. Despite the proliferation of these policies, little is known about their effectiveness, particularly how these effects may differ across race/ethnicity.
This study investigates the discrepancy between these policies and their effects on drinking among pregnant women by race and ethnicity. We found that measuring the overall effect of these policies may conceal effects the policies have on different racial subgroups. We found that the health benefits and harms from these policies are not equally distributed across White, Black, and Hispanic women.  For example, we found that White women's drinking is not affected by select punitive policies, but Black and Hispanic women reported less drinking when some of these polices were in effect. This may be because Black and Hispanic women may be more likely than White women to be punished for alcohol use during pregnancy. Due to a small proportion of Hispanic women in our sample, these findings may not be generalizable.
Additional research should continue to investigate differential effects of race/ethnicity on outcomes such as prenatal care, birth outcomes, and alcohol treatment utilization.
The results of this study, "Differential effects of pregnancy-specific alcohol policies on drinking among pregnant women by race/ethnicity," are available in the journal Health Equity.