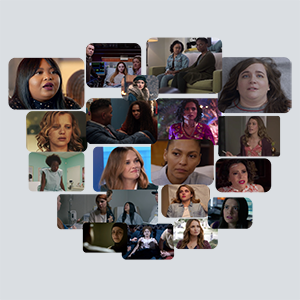 In 2019, we documented more abortion depictions on television than we've ever seen before – forty-three – and many of these plotlines addressed abortion in complex ways, including depicting how abortion restrictions harm people seeking abortions.
At the same time, we saw a troubling return to these depictions reinforcing myths and misinformation: the majority of characters obtaining or disclosing abortions this year were white, whereas the majority of people who seek abortions in real life are people of color. Four of this year's episodes depicted self-managed abortion, yet all of them associated this practice with physical danger and ineffectiveness.
Other trends included an increase in depictions of characters parenting at the time of their abortion – more than we've seen in past years, yet still at a much lower rate than their real-life counterparts – and more comedies featuring characters obtaining abortions in addition to abortion jokes.
Download our full report, which contains show information and plot summaries for abortion portrayals on TV in 2019.