Study finds relationship between distance to nearest clinic in TX and decline in abortion rate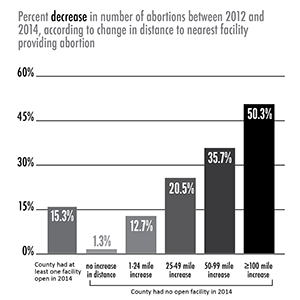 Research from ANSIRH and the Texas Policy Evaluation Project (TxPEP) exploring the impact of House Bill 2 (HB 2) – the restrictive Texas abortion law that was struck down by the Supreme Court – found that increases in travel distance to the nearest abortion clinic caused by clinic closures were closely associated with decreases in the official number of abortions. 
The study, published by the Journal of the American Medical Association (JAMA), found that counties where the distance to the nearest facility increased 100 miles or more saw a 50% decline in abortions. Meanwhile, counties that did not have an abortion provider in 2014 and did not experience a change in distance to the nearest facility had essentially no change in the number of abortions.
Between 2013, when HB 2 was introduced in the Texas Legislature, and June 2016, the number of facilities providing abortion in Texas dropped from 41 to 17. According to statistics published by the Texas Department of State Health Services, there was an 18.5% decline in abortions performed on Texas residents between 2012 and 2014. The official statistics do not include data on women who decided to self-induce their abortion or those who travelled to Mexico to obtain care.
Read the full study on the JAMA website.
View the infographic here.