Ohio law restricting medication abortion did not improve health outcomes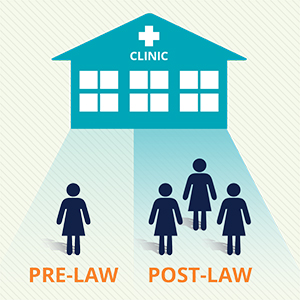 In 2011, an Ohio law took effect mandating the use of the outdated Food and Drug Administration (FDA)-approved protocol for medication abortion. This restriction prohibited the use of the evidence-based regimen for medication abortion that was the accepted standard of care. In March 2016, the FDA approved a revised label for mifepristone (brand name: Mifeprex), one of the drugs used in medication abortion. This change brings the FDA protocol in line with the current clinical evidence.
Researchers at ANSIRH sought to understand whether this 2011 law change had any impact on outcomes for women obtaining medication abortion in Ohio by comparing women obtaining medication abortion before the law (2010-2011) and after the law (2011-2014). This study examined the need for additional medical treatment, the experience of side effects, and the rate of medication abortion versus aspiration abortion in Ohio.
In our study titled "Comparison of Outcomes before and after Ohio's Law Mandating Use of the FDA-Approved Protocol for Medication Abortion: A Retrospective Cohort Study," published in the journal PLOS Medicine, we found that women who had medication abortions in the post-law period had three times the odds of requiring at least one additional treatment to complete the abortion, compared to women in the pre-law period. The rate of incomplete or possible incomplete abortion was significantly higher post-law (3.2% vs. 1.1% pre-law). Side effects were significantly more likely among women after the law change, with 15.6% reporting at least one side effect in the post-law period, compared to 8.4% pre-law. There was an 80% decline in medication abortion in Ohio between 2010 and 2014. The proportion of all abortions provided that were medication abortions declined from 22% before the law went into effect to 5% in 2014. This goes against the national trend that sees medication abortions increasing in most other states.
These results suggest that by mandating adherence to an outdated protocol, doctors in Ohio were forced to treat women with a medication protocol that did not appear to have any added benefit to women's health.
View the publication. See also our two issue briefs on the subject: Impact of Ohio's law mandating use of the FDA-approved protocol for medication abortion and Safety and effectiveness of first-trimester medication abortion in the United States, as well as our infographic on the impact of the Ohio law.