No evidence of emerging mental health problems after having an abortion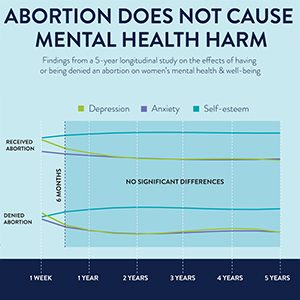 Published in JAMA Psychiatry, "Women's mental health and well-being five years after receiving or being denied an abortion: A prospective, longitudinal cohort study," analysis from ANSIRH's Turnaway Study, found that having an abortion does not adversely affect women's mental health either at the time of the abortion or over five years after receiving abortion care. We also found that denying women abortion has negative consequences to their mental health and well-being in the short-term.
We found no evidence that women who have abortions risk developing depression, anxiety, low self-esteem or less life satisfaction as a result of the abortion, either immediately following, or for up to five years after the abortion. However, women who were denied an abortion had more anxiety, lower self-esteem, and less life satisfaction immediately after being turned away. Over the subsequent five years, symptoms of anxiety and depression decreased and self-esteem and life satisfaction improved significantly, both for women who received an abortion and for women who were denied care.
The study provides the best evidence we have to date on the mental health effects of having an abortion, by comparing women who received an abortion to those who were denied one, and following them for five years.
View the publication on the JAMA Psychiatry website.
Download and share the infographic.