Doctors and witches, conscience and violence: Abortion provision on TV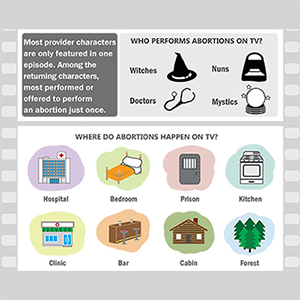 In our study of television abortion provision portrayals, we found that abortion care provided by physicians working in legal settings, such as hospitals and clinics, were portrayed as safe, effective and compassionate. However, portrayals of care provided by non-medical professionals were often depicted as dangerous and ineffective. This suggests that portrayals of abortion provision on television both produce and reduce abortion stigma.
We conducted an online search of television shows from 2005 – 2014 and identified 52 plotlines that included abortion provision, including 36 individual providers and 44 spaces in which abortions were offered or performed. The results of our analysis can be found in the article, "Doctors and Witches, Conscience and Violence: Abortion Provision on American Television," published in Perspectives on Sexual and Reproductive Health.
Nearly all abortions on television were performed by physicians in tradition settings, such as hospitals and clinics. In contrast, some non-traditional characters who performed abortions on television, typically in non-traditional settings such as bars, cabins, prison, and the forest, included witches, nuns, and mystics. It's possible that these characterizations may add to stigma of non-physician abortion care providers in the real world.
Abortion provision was featured across genres, yet disproportionately depicted on dramas, which accounted for 75% of abortion provision plotlines. In fact, a greater proportion of analyzed plotlines were featured on horror programs than comedy programs, despite that fact that comedy programs are far greater in number. Only 4% of abortion provision plotlines were on comedies.
Our infographic, "Abortion Provision on American Television," provides an overview of the findings from this study.