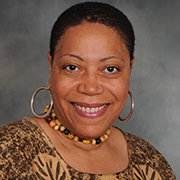 ANSIRH is excited to announce our new Fellowship in Reproductive Justice Research. This year-long fellowship provides support for the research costs of a student conducting reproductive justice-focused research (up to $8,000) and includes hosting the Fellow for one week as a visiting scholar at ANSIRH.
ANSIRH's inaugural Fellow for 2019-2020 is Toni M. Bond. Ms. Bond is a Ph.D. student in Religion, Ethics, and Society at the Claremont School of Theology in California. This fellowship will support her doctoral research, "The Oral Reproductive & Sexual Herstories of Black Protestant Christian Women." Her study examines the ways in which religious doctrine and dogma impact the reproductive decisions and sexual attitudes and behaviors of Black women between 18-62 years of age within the Protestant Christian tradition.
Ms. Bond is a womanist scholar and ethicist. Her research focuses on the lives of Black women and the intersectionality between religion and reproductive justice, womanist theology, and womanist ethics. She is one of the founding mothers of the reproductive justice movement and has worked in the reproductive health, rights, and justice movements for the past 29 years.
This year's Fellowship was made possible through the generous support of the Grove Foundation.
Banner photo: iStockPhoto/pixelprof